A New Dawn: FreshCredit's Strategic Partnership with Cooley LLP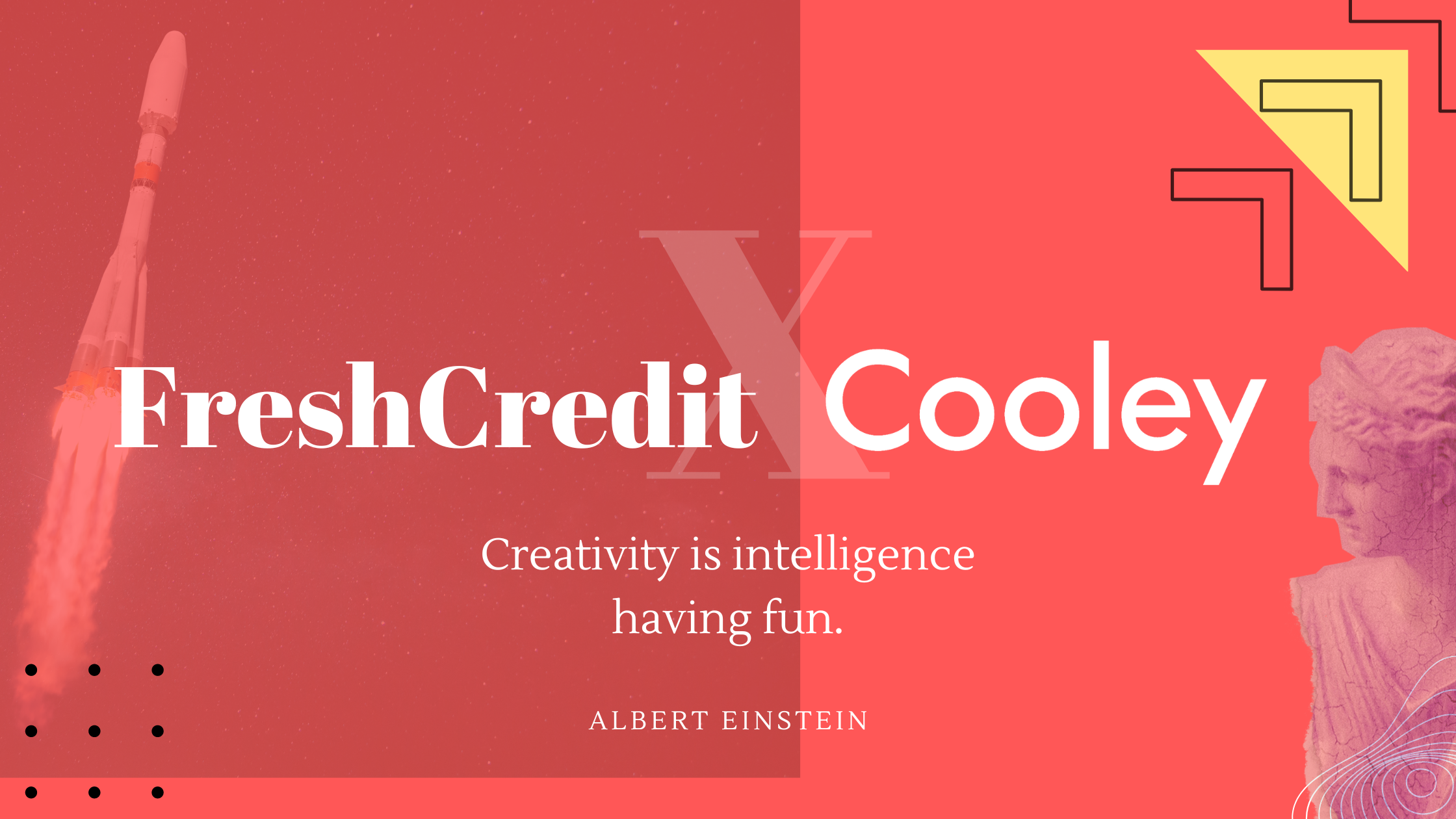 Table of Contents
In a fast-paced world characterized by constant innovation and disruption, FreshCredit Inc. has always aimed to stay ahead of the curve, forging a unique path in the realm of credit scores and blockchain technology. Today, we are pleased to announce a strategic collaboration that will significantly enhance our mission to reshape the credit landscape – our official engagement with the globally acclaimed law firm, Cooley LLP.
For those unfamiliar, Cooley LLP has carved a niche for itself in the global legal landscape, specializing in multiple areas of law, but perhaps most prominently, the field of emerging technologies, including blockchain. Their legal prowess and experience navigating complex regulatory landscapes makes them an ideal partner for FreshCredit, given our commitment to our trailblazing blockchain-based credit score platform. By engaging Cooley LLP, we fortify our commitment to uphold the highest standards of legal excellence.
A synergy between Cooley's legal expertise and FreshCredit's innovative solutions creates a powerful alliance. Our CTO, Devon Shigaki, echoed these sentiments, stating, "Cooley's global reputation, understanding of regulatory compliance, and expertise in navigating the legal terrains of emerging technologies are unparalleled. Their support will undoubtedly reinforce our mission of financial inclusion and innovation."
Behind every successful venture lies a facilitator, and ours is none other than Sean Weppner, FreshCredit's CEO. His relentless efforts to spearhead this partnership were fueled by a clear vision and an insatiable drive for innovation and inclusion in the financial sector. "For FreshCredit, the promise of tomorrow lies in the innovations we make today. This partnership is a step towards a future where access to credit scores is democratized, and users are empowered," said Sean, reflecting on this landmark collaboration.
Compliance & Legal Expertise
The collaboration with Cooley LLP is about more than legal backing. It is about ensuring the robustness of FreshCredit's platform, reinforcing trust with our users, and guaranteeing regulatory compliance. It also entails fostering an environment of transparency and security while allowing FreshCredit to broaden its global reach, offering its revolutionary credit solutions to businesses and individuals worldwide.
While we are excited about our collaboration with Cooley LLP, their team echoes the same sentiments.
FreshCredit's mission to revolutionize credit scores through blockchain technology aligns with our passion for supporting emerging technologies. Our combined efforts will undoubtedly reshape the credit industry.

A representative at Cooley LLP
Indeed, FreshCredit is poised to grow and thrive, fortified by a strengthened legal framework. This collaboration signals our unrelenting commitment to provide secure, transparent, and compliant credit score solutions to our users.
As FreshCredit expands its global presence, our collaboration with Cooley LLP will be instrumental in shaping our journey. We firmly believe that their insights will help us navigate the challenging terrain of legal and regulatory compliance, ensuring our solutions meet the highest standards of credibility and trustworthiness.
As we look to the future, FreshCredit is committed to being the leader in leveraging blockchain technology to drive financial inclusion, furthering our mission to democratize access to credit scores. This collaborative effort with Cooley LLP is a significant leap in that direction.
The journey to revolutionize the credit landscape is a challenging yet exciting one. However, armed with our innovative platform and the exceptional legal guidance of Cooley LLP, we are confident in our capacity to overcome obstacles and reshape the credit industry.
In this partnership, we see more than an alliance. We see a potent combination of innovation and expertise. We see a shared vision and common goals. Most importantly, we see the promise of a future where access to credit information is not a privilege, but a right. We invite you to join us on this exciting journey and share in the remarkable possibilities it presents.
For more details on FreshCredit Inc.'s engagement with Cooley LLP, please visit www.freshcredit.com.
About FreshCredit Inc.
FreshCredit Inc. is a pioneering provider of blockchain-based credit score solutions. By revolutionizing how individuals and businesses access, control, and utilize credit scores, we strive to promote financial inclusion and empower users to make informed decisions. We are committed to transparency, security, and spearheading the future of credit assessment.
About Cooley LLP
Cooley LLP is a prominent global law firm, advising clients across various sectors on legal matters, including emerging technologies, intellectual property, and regulatory compliance. With an experienced team of lawyers, Cooley LLP provides comprehensive legal support, empowering companies to navigate intricate legal landscapes and drive innovation.
Uncharted Territory Requires Expert Guidance
This exciting partnership signifies a new phase in FreshCredit's evolution. We find ourselves standing at the precipice of a monumental shift in the financial industry, where blockchain technology promises to eliminate long-standing barriers to financial inclusion. As we venture into this uncharted territory, we do so with the guidance and support of Cooley LLP, a law firm whose reputation for excellence precedes it. Together, we seek to create a world where creditworthiness is no longer confined to opaque algorithms and inaccessible databases, but a transparent, decentralized, and empowering tool for individuals and businesses alike.
We are conscious of the responsibility that we bear, as we hold the promise of financial inclusion and transparency in our hands. The path ahead is riddled with regulatory complexities and legal considerations. However, with Cooley LLP by our side, we stand prepared to navigate these challenges. Their expertise in emerging technologies, data protection, and intellectual property law will be instrumental in our journey, empowering us to build a product that not only adheres to the highest standards of legal compliance but also garners the trust and confidence of our users.
Beyond the practicalities of regulatory compliance and legal framework, this partnership is a testimony to our shared vision for a more inclusive financial future. Both FreshCredit and Cooley LLP are driven by the belief that technological innovation can significantly enhance the ways we engage with our financial systems. We share a commitment to ensuring that this future is not just technologically advanced but also ethical, fair, and inclusive.
The credit industry stands at the threshold of change. We at FreshCredit are proud to be part of this transformation, pushing the boundaries of what's possible with blockchain technology. We believe our partnership with Cooley LLP marks the dawn of a new era in credit score accessibility and transparency, enabling us to unlock untapped potential and redefine the way credit scores are understood and utilized.
As we embark on this journey, we are invigorated by the potential that lies ahead. With Cooley LLP as our trusted partner, we look forward to fostering a culture of innovation, integrity, and inclusion. Together, we will continue to challenge the status quo, redefine norms, and shape a future that values accessibility, transparency, and the power of blockchain technology. In this future, we see a credit industry that empowers every individual and business with the knowledge and tools they need to succeed. And this is the future we, at FreshCredit, strive to make a reality.
---